The Challenge
Artisan Chocolate makers are thriving in Britain, and our local Willy Wonkas at Goupie are doing an amazing job at creating something not only delicious but unique and accessible to all. With their entire range now boasting vegan-friendly credentials and many of the flavours containing an entirely gluten-free bite, more people than ever can enjoy this choc.
Being huge fans of the delicious confection (and having designed and built their previous site) we couldn't wait to get started on giving their online presence a fresh look. Our challenge was to create an online experience that could stay true to its loyal base and also tell the story of the products and the brand in a way that was uniquely 'Goupie'.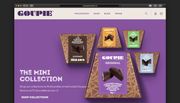 The Design
Goupie is one-of-a-kind in so many ways, so figuring out our focus was tricky. One of the key strengths of the brand is the broad and appealing range of flavours; from chilli to cardamom, lavender to lemon meringue. We focussed in on that and decided to craft product pages that shared the essence of the flavour you were looking at; bold colours, large pack-shot and a generous scattering of ingredients.
Once the product pages had personality, the next challenge was to show that although Goupie is an artisan product, it has grown-up from the early days where each batch was created in the kitchen – it's still lovingly hand-made, just now in a small factory with a talented team. We decided to inject 'craft' aesthetic through texture, typography and colour, whilst keeping a strong focus on ensuring the UX was seamless; you don't want to stop people getting their Goupie fix!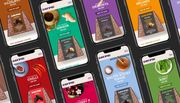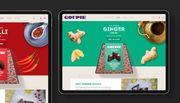 The Build
Once again, we relied on the wonderful platform that is Craft to see us home on this build. We stacked the CMS with a series of plugins including Commerce to help us build the perfect user experience. We also built a series of custom plugins to help close the loop for sales such as native integration with MailChimp's e-commerce API for managing marketing such as abandoned cart emails and social media campaigns.
We knew the majority of the site traffic came from mobile so one of the key ambitions with the build was to ensure a seamless experience across all mobile devices - helping reinforce the brand message and increase conversion.
Photoshoot
We embraced the opportunity to add some creative flair to the product photography. Led by our work on the top-down styling on the website we set about creating some whimsical and vibrant imagery that the Goupie team could share on social media and use for various press and media outlets. Working closely with the team ensured we got just the right look and feel for the shots; products front and centre with a solid shot of personality from block colour and frivolous ingredient decoration. The final result: some super eye-catching shots that really capture the energy and character of the sweet treat.