ReefKeeper
Long-time clients Maidenhead Aquatics wanted us to create a website and brand this new speciality store concept.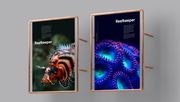 The Project
Unparalleled to any other aquarium provider, they are the leading marine retail specialist and wanted a site completely dedicated to this expertise.
The site needed to be a hub of support and information for those who own or are thinking of owning an aquarium. Clean and clear, the site is easy to navigate, with beautiful, strong marine imagery the site also works well alongside the main Maidenhead Aquatics site.